When you're showing up for your buddy's wedding, you want to look elegantly handsome, but you also want your style to be understated in order to complement the groom's outfit. If you look sharp, people will probably cut you a lot more slack when you're making a toast to the groom, and lightheartedly share some embarrassing moments from the past. Meanwhile, weddings can get messy, so you'll want to have an outfit that can withstand whatever spills and other surprises come along the way!
Well, one caveat is that all weddings are not the same. So we have split the tips into formal, cocktail, and casual affairs – so that all your bases are covered
FASHION GUIDE FOR FORMAL WEDDINGS
When it comes to formal weddings, it is important to put your best foot forward - since this is your good friend's special day. He'll certainly appreciate you making the effort, as will his soon-to-be wife!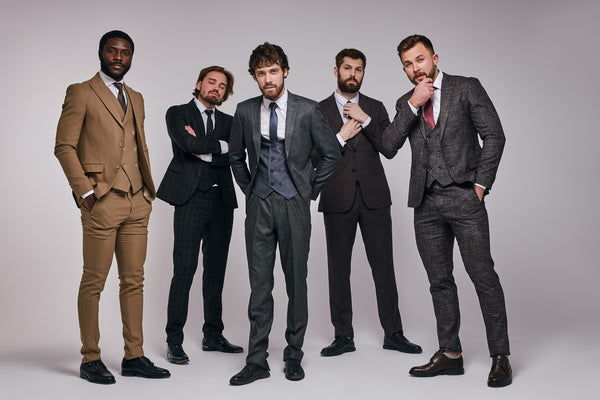 1. Wear a Dark Tuxedo or Suit
Tuxedos or suits make for a perfect outfit at your friend's wedding. You'll want to opt for dark hues, such as black, midnight blue, and charcoal gray. These are appropriately formal for this event, and will help you make an excellent first impression with the other guests. After all, there are probably going to be quite a few lovely ladies at this wedding!
2. Wear a Necktie (or Bowtie if it is a Black Tie Event)
There is one major difference between a black tie event and a formal one: A bow tie isn't required. You can choose the type of tie you wear depending on your mood and preferences.
3. Wear a Collared Dress Shirt
You can choose a fabulously patterned dress shirt for this occasion. You don't have to wear a tuxedo shirt unless you feel like it.
4. Don't Forget the Dress Shoes
You don't necessarily have to wear patent leather shoes, but oxfords or elegant dress shoes are required.
5. Wear a Matching Suit
It can sometimes be fun to pair your blue suit pants with your black blazer, but it's best to avoid mixing and matching for a formal event. Instead, you'll want to opt for a matching suit.
6. Opt For a Lapel
Again, it's not a good look to wear a boutonniere to your friend's wedding. You don't want to try and outshine the groom, so it's best to opt for your favorite lapel instead.
Formal weddings are a lot of fun. They give you a chance to dress up and show off your personal style in a formal setting. Believe it or not, weddings are also a great place to meet that special someone.
FASHION GUIDE FOR COCKTAIL WEDDINGS
Cocktail events are fun and flirty, but still slightly formal, so you can bend the rules, but you can't completely break them. You can break out that royal blue blazer!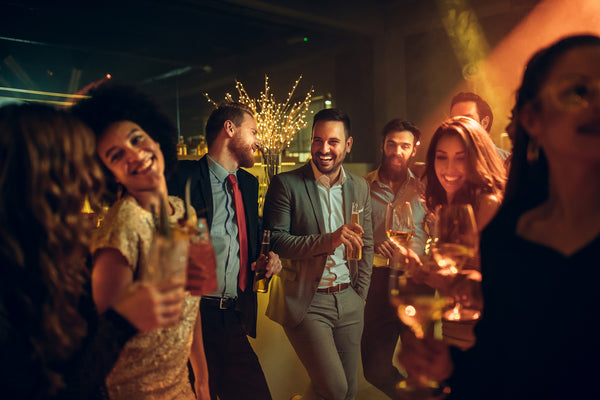 1. Wear a Suit
You can totally mix and match, so wearing a blue blazer with black suit pants is totally acceptable. Navy blazers and sports jackets are super popular, because you'll probably throw them off and start dancing by the end of the night!
2. A Necktie Always Works
For this type of event, a bow tie is often considered to be too formal. A necktie is your best bet in this case. And if things get more casual later on, you can always ditch it to become more casual.
3. Enjoy Accessorizing
You can totally have fun with this outfit! Don't be afraid to add some sophisticated jewelry to your look, or incorporate a patterned pocket square into your outfit. Beaded bracelets are a really fun look, and most women go crazy for them, so you might want to use them to add a little extra flair to your evening outfit, especially if you're in search of that special someone!
4. Opt for a Standard-Style Suit
A tuxedo is considered over the top at this type of event. You can simply choose your favorite suit and experiment with the colors if you feel the urge to.
Although this isn't a black-tie event, it's also not a casual one, so you'll want to save the jeans and blazer look for another time. You'll also want to wear some type of suit, even though it doesn't need to be a tux, and some variation of close-toed shoes. Oxfords are always a good choice, and you can even choose a unique color, such as gray or even burgundy, if you're in the mood to experiment. It's always fun to change it up a bit and express your originality!
FASHION GUIDE FOR CASUAL WEDDINGS
If you're attending a casual wedding, it's fine to have a little fun. You might want to choose a patterned shirt, for instance.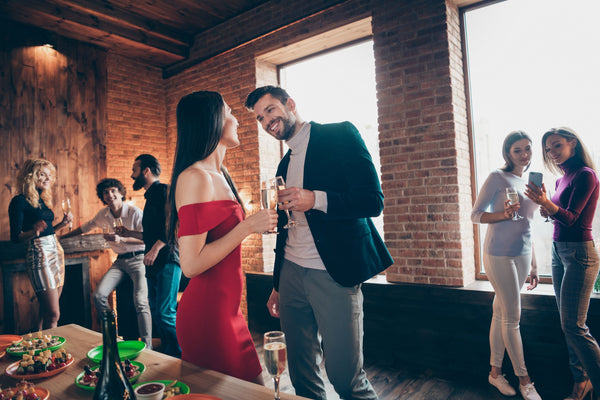 1. Wear Chinos or Suit Pants
Chinos or khakis are an excellent choice for a casual wedding: They're formal enough to help you look sharp, but also casual enough to fit in with the other guests.
2. Wear a Printed Shirt
Opting for a plaid or striped shirt is a great look. It's super cute and also quite casual!
3. Add a Splash of Color to Your Look
If you have a favorite blue number you love, or even a burgundy blazer, this is the time to bring it out. After all, a little color never hurt anyone!
4. Opt for a Polo or Poplin
If you have a polo shirt you love, you can totally rock it during this event. There's no harm in pulling it out of your closet and enjoying it for the evening.
5. Avoid Neckties and Bowties
This is a casual event, so a tie would look too formal. Instead, you can simply wear a nice shirt in your favorite hue.
6. Opt For Closed-Toed Shoes
Even though dress shoes aren't required, it's still better to wear close-toed shoes. Oxfords or loafers are ideal.
ALL-NIGHT ENJOYMENT, WITHOUT WRINKLES AND STAINS
You now have a good idea of a dress code that will rock your style and make your buddy stay friends longer after his once-in-a-lifetime event. But what if the drinks accidentally spill on your new suit, or it gets wrinkled from too much action on the dance floor? Of course, you won't have time to clean or steam the suit in middle of the ceremony.
That's where high-tech suits come in to save the day. A stain and wrinkle-resistance suit will take all fear away and allow you to enjoy the big day to the fullest. xSuit is where you can get the highest tech (yet affordable!) suit and accessories. And remember to bring a mask to keep everyone safe at the event. No matter your style, you can keep your peace of mind and look great doing it!